-8 %




Learning to be Great 5
A value education series that helps to develop physical, intellectual and character energy. Imparts Life Skills Develops thinking and analytical power Helps manifest greatness
Learning To Be Great Book 5 is the fifth book of the series Learning To Be great 1-5. The stories, values and topics are well graded and selected according to the age of the child. This book has stories about sports-man spirit, having positive thoughts of love and care, Non-violence, willpower and patriotism, etc. All the books in the series are divided into five parts thus covering Physical Development, Social ethical values, Value Education for the environment, respect for all faiths and developing scientific attitude. The stories and projects in the book develop thinking and analytical power through examples, biographies, questions and problem solving exercises. The book develops social, ethical and spiritual values through stories, biographies and real-life incidents. Adapted from Jataka, Panchtantra, and Indian and Foreign tales, the stories are told in such a way that they encourage students to constantly think and actively participate in the learning process. With the help of attractively illustrated stories from the lives of great spiritual saints, students learn values of harmony and peace. Several real-life situations are provided to learn life skills and manage emotions in various stressful situations. Drama given in the book help to develop the confidence, verbal skills and imagination of children.
Students are introduced to their immediate environment and through observation, they develop ecological values and are introduced to the skills of collecting and understanding current information to form the right opinions.
Suggestions have been provided for parents and grandparents to actively participate in the development of children through activities and bedtime stories.
Personality development form, extensive notes for teachers and parents and suggested activities help to mould the personalities of children in an effortless way for their total development.
Key words – ValueEducation, Stories for children, Story, bedtime stories, Value Education related to environment, training, Life skills, managing Emotions.
The aims of the series are :
All round development inclusion of values and learning of life skills
Book Features
Ecological Values Environment Protection
Scientific Thinking and Analytical Power
Respect for Culture and Heritage
Stories for Internalising Values
Lives of Great Men - Source of Inspiration
Projects - Self Confidence and Creative Expression
Life Skills - Managing Emotions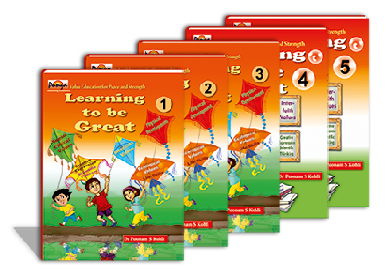 Support For Teachers
All the books contain specially designed evaluation materials to support and facilitate the work of teachers.
All the books give an index of Learning Skills and Life skills, aims and objectives of each lesson and detailed suggestions for teachers.
All the books have suggestions for Parents, so that teachers can coordinate their work with home and create an enriched environment for children.
The authors are available to answer any queries and help teachers.
The web site and the author is constantly available to answer any queries and help teachers.
Support for Schools
Educational research services and consultancy for Total Quality Management in schools.
Book Details
Publisher:
Punya Publications
Publication Date:
2014-02-26
ISBN NO:
81 901897-7-8
Book Size
180 X 240 mm
Language:
English
Binding:
Soft Back
Pages:
72 Pages
Weight:
140 gms
Stock:

In Stock

Model:

81 901897-7-8

ISBN:

81 901897-7-8