-9 %
Language Builder - 8
An ELT expert and teacher trainer David Dye in collaboration with Indian experts, has developed This excellent Language Builder series based on the syllabi of our boards, for the total satisfaction of teachers and students.
Language Builder 8 is the eighth book of a series of 8 books to completely look after the needs of learning English. The titles 6,7 and 8 can be used by all specially suitable for 11 to 15 years old students. Starting from alphabet and syllables the series takes you step by step, holding your hand for teaching English language and using it in real life situations, writing paragraphs, letters, resume, making notes and all the other communication needs. Every step is well graded based on the research in language acquisition. With Language Builder see the listening, speaking, reading and writing skills grow at an amazing pace. Grammar and punctuation rules are clearly defined with ability appropriate activities to help develop language skills. Explanations are clear and pictorial, supported with mental maps and memory aids. Games and puzzles help to stimulate thinking and build vocabulary. Attractive colourful cartoonish pictures and diagrams make the exercises interesting. Plenty of exercises ensure that no student is left behind.All books are divided into well-graded units. All units have unit reviews and tests to assess and help the progress. It makes you confident to use English with the help of plenty of exercises of grammar, spelling, writing and communication. Real progress is made as students are challenged to use the skills in real life situations. Real life situations help to develop communication skills. You work in units, every completed unit, its review and test builds confidence and makes you ready for the next step. Every book of the series has a special section of Vocabulary Builder. The books focus the attention on common English errors by giving them in boxes. Helping to develop English skills, this series teaches English language and shows how to use it in real life situations, writing paragraphs, letters, resume, making notes and other communication needs. It focuses on English mistakes by giving them in boxes. It defines grammar and punctuation rules with activities to help develop language skills.
In Language Builder Book 8 – Students get extensive practice in Tenses. Voice, Speech and all the other Grammar and punctuation rules. Practice in writing skills such as note making, Diary writing etc. is provided. The book includes further practice in paragraph writing, formal and informal letter writing, resume writing and many more exercises. In short the exercises and writing practice in the book prepare the students for high achievement and other learners for right communication skills in English Language.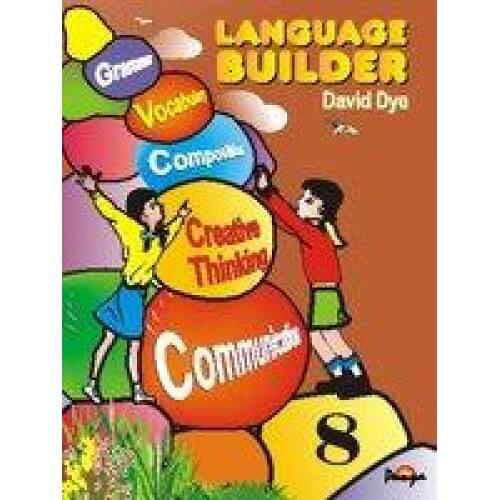 Key Features :
Author
This series has been developed by Mr. David Dye, a world renowned author of several successful books and teacher trainer for English language teaching. He has years of research and experience for developing English Language Teaching Materials. His creativity worksheets are available at www.createbetterwriters.com and are used by thousands of teachers all over the world for English teaching.
Dr Poonam S Kohli who has edited and compiled the series, has more than three decades experience in education and editing. She is an author of award winning and highly popular books for school students.
Book Details
Publisher:
Punya Publications
ISBN NO:
81 89534-09-2
Book Size
180 X 240 mm
Language:
English
Binding:
Soft Back
Pages:
168 Pages
Weight:
290 gms
Stock:

In Stock

Model:

81 89534-09-2

ISBN:

81 89534-09-2